Whether your parking lot is concrete or asphalt, we'll help you keep it beautiful!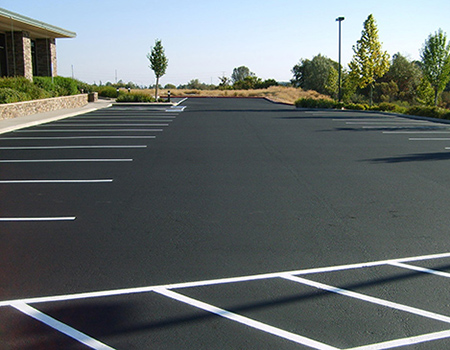 Most businesses maintain a parking lot to accommodate their clientele and beyond that, chances are they don't give it too much thought unless a problem arises. Unfortunately, small problems can become big problems if overlooked, and in the meantime, your parking lot can begin to show signs of visible neglect.
When you contract with C & C Commercial Cleaner for parking lot services, you don't have to worry about your parking lot looking unkempt, and we'll notify you of any small problems before they get out of hand. At Commercial Cleaner, we maintain the largest fleet of parking lot sweepers in Central Arkansas, and we have a large, professionally trained crew ready around the clock!
Because we service over 250 parking lots in the Central Arkansas area, we've got plenty of experience on both concrete and asphalt lots, and our GPS equipped fleet gives us the ability to know at a glance what properties have been swept and where our trucks are at any given time. Additionally, our service is available 24 hours a day, 7 days a week, so you can pick the frequency and the specific time of day for us to sweep your lots, which means you don't have to deal with a sweeper running through your parking lot at the same time the bulk of your clientele is trying to get in or out. Plus, if you have an emergency and need us right away, we can have a sweeper truck headed your way in no time to take care of the problem.
Most importantly, we are committed to 100% customer satisfaction. Our managers inspect properties regularly to ensure proper cleaning and if you ever see something you'd like us to do differently, or do better, just let us know, and we'll be there in a flash!
If you have any questions, or are ready to schedule a free consultation, Call us today at (501) 945-3219 or contact us online at this link.