We Operate Arkansas' Largest Fleet of Power Sweeper Trucks!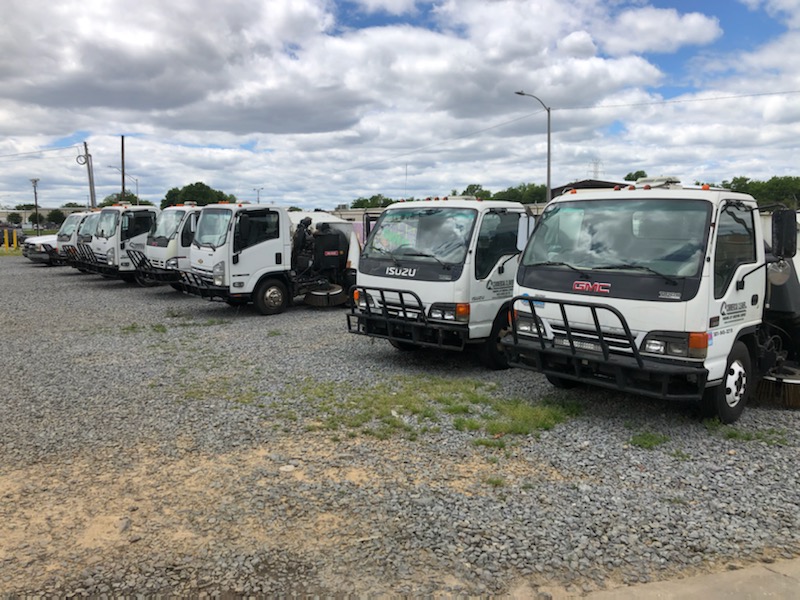 C & C Commercial Cleaner opened for business in 1980 with a single sweeper truck, and we've had to add more vehicles to our fleet over the years to help our customers put their best foot forward with an immaculately clean parking lot or multi-story parking deck. We offer regular power sweeping services to over 300 businesses in over 20 central Arkansas communities. We love working with budget-conscious customers, and we'll help you determine a schedule for cleaning that meets your needs at a price you can easily afford!
Our trucks are carefully maintained and equipped with the most current available sweepers and include onboard GPS navigation to help us maintain records of where our drivers have been and to ensure a thorough job on every service visit. Our trucks wouldn't be very useful without great drivers, and we recruit the best in the business. You might not ever meet your driver, but you'll know that he or she was there each morning you pull into a clean parking lot!
We offer daily sweeping and rubbish removal services to maintain your commercial shopping center's curb appeal and weekly service for churches, schools, and other small businesses. We also offer 24-hour on-call service any time you need to schedule a service appointment between your regular service visits. Our phone is always answered, and we'll be there right away if you need to clean up after severe weather or a special event at your school or church.
Parking lot sweeping service is a very affordable service that offers a lot of great benefits. For starters, it's one less detail you'll have to focus on as you run your business. A clean parking lot sends a clear message to would-be thieves that your lot is regularly patrolled and discourages vandalism and theft. Most importantly, it's a great way to add value to your business. Customers prefer working with companies that focus on the right details and are willing to pay more for their products and services.
If you have any questions or want to schedule power sweeping services, contact us online or at 501-945-3219. We're ready to make you our next lifetime customer and stand behind our work with a 100% satisfaction guarantee.