Our Fleet of Power Sweeping Trucks Keeps Arkansas Beautiful!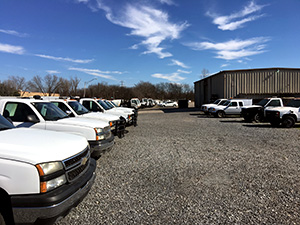 C & C Commercial Cleaner proudly operates Arkansas' largest fleet of power sweeping trucks, and they leave our lot in North Little Rock each night to sweep over 300 parking lots in a ten county area. Our company started out with a single sweeper truck four decades ago, and we've continuously grown and added to the fleet over the years. We're proud to enjoy so much repeat business, and the only thing that's missing is you!
Power sweeping services are surprisingly affordable, and we're always happy to work with budget-conscious customers. Even if you don't need daily service, we can come on a weekly basis to sweep your lot and remove trash and rubbish. We'll be there when we say we will, and we keep backup drivers on call to ensure that our routes are always serviced.
All of our trucks are equipped with onboard GPS navigation, which helps us keep track of our drivers while they're in the field. You can always count on a job well-done, and you'll pull into an immaculately clean parking lot in the morning. You might not get the chance to meet our drivers unless you stay late or arrive very early, but you'll know they were there. Our trucks wouldn't be much good without great drivers, and we hire the best!
Even if you're a hands-on business owner, it's difficult to to everything on your own. But when you're our customer, you'll never have to worry about the condition of your parking lot. We also offer 24 hour on-call service if you need cleanup between your regular service appointments.
We can sweep both concrete and asphalt parking lots, as well as multi-story parking garages. No lot is too big or too small, and we stand behind all of our services with a 100% satisfaction guarantee. In the unlikely event that we didn't complete the job to your satisfaction, we'll be there right away to address your concerns. Businesses like ours depend on repeat customers, and it means so much to us that so many businesses, schools, and churches keep coming back. Give us a call and let us show you how affordable that our services can be!
If you have any questions or would like to schedule power sweeping services, contact us online or at 501-945-3219.