Improve your company's curb appeal today!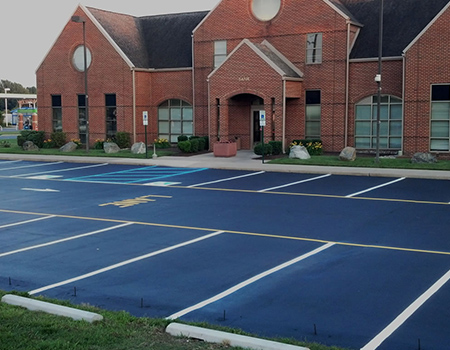 Managers and small business owners take great pride in their companies and understand the importance of focusing on the right details. You shouldn't be so busy working "in" your business that you don't have time to work "on" your business, and you need to learn to delegate responsibilities so you'll have time to focus on the big picture. Unless you're in the power sweeping business, sweeping your parking lot is not a good use of your time. But C & C Commercial Cleaner, Inc. is in the power sweeping business, and our trucks are a phone call away!
There are many benefits of maintaining an immaculately clean parking lot. First, you and your employees can take more pride in your facilities. Your parking lot also makes a great first impression on prospective customers and adds value to your brand. Power sweeping service isn't a luxury you don't need or can't afford. You do, and you can! We're a small business ourselves, and we're happy to work with our budget-conscious customers. Our large institutional customers often choose nightly service, and we also offer weekly service packages that are perfect for small boutique businesses.
Our company started out in 1980 with a single sweeper truck, and we've added to our fleet over the years as our business has grown. We now have Arkansas' largest fleet of commercial sweeper trucks and offer regular service to over 300 businesses in central Arkansas! We hire experienced drivers who share our commitment to legendary customer service and are hard at work each night to keep The Natural State beautiful. Our trucks are well-maintained and equipped with onboard GPS navigation to support our drivers in the field, and we keep backup drivers on call to ensure our routes are covered at all times. We also offer 24-hour emergency on-call service if your parking lot or parking deck requires attention between your regularly scheduled service visits.
We're a family-owned business and stand behind all our services with a 100% satisfaction guarantee! If our work fails to meet your expectations, call us, and we'll immediately address your concerns.
If you have any questions or would like to schedule power sweeping services, contact us online or at 501-945-3219.