Do you run a shopping center? A clean parking lot is a great way to attract new customers!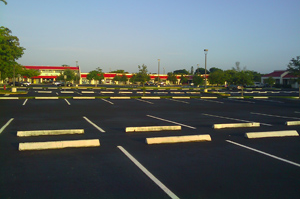 If you operate a shopping center, heavy traffic through your parking lot is typically a great problem to have, but it does create a lot of additional work to keep your paved parking lot or parking deck clean. A clean parking lot makes a good first impression on prospective customers, and is also an effective way to discourage auto break-ins.
The good news is that our team at C & C Commercial Cleaner is here to help! We've been in continuous operation for over 35 years, and are proud to provide affordable sweeper services to over 250 businesses, churches, and schools in 18 central Arkansas communities. Your curb appeal is our business, and we're always a phone call away when you're ready to schedule service. Here are just a few of the benefits that you'll enjoy as a client:
Flexible Scheduling-Our services are available around the clock, and we'll determine a service plan that will fit your schedule and your budget. And if you need to schedule sweeping services between your regular appointments, we also offer 24 hour emergency services!
Experienced Drivers-Our drivers are experienced, and well-trained. We make sure that their sweeper trucks are properly maintained and serviced before each service call, and that our drivers show up on time, every time. We also equip our trucks with GPS navigation so that we can have a record of where they have swept, and that they won't "miss a spot".
Unrivaled Customer Service-We know that a happy client is a repeat client, and every member of our team shares our commitment to providing legendary customer service. If our work ever falls short of your expectations, our phone is always answered, and we'll make it right!
If you have any questions, or would like to schedule powersweeping services, contact us online, or give us a call at 501-945-3219.