At C & C, your curb appeal is our business!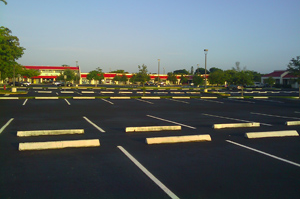 The term "curb appeal" has existed for a long time to describe the initial impression that people get about a property as they drive by or pull into the parking lot. But at C & C Commercial Cleaner, we take the term much more literally! We're here to make your curbs more appealing, as well as your parking lot or deck. We know that a clean and attractive parking lot and storefront is a great way to make a positive impression on prospective new customers, and our fleet of parking lot sweeper trucks are always a phone call or mouse click away when you're ready to schedule service.
We've been in continuous operation for 35 years and counting, and presently service over 250 Arkansas businesses, churches, and schools in 18 communities and 10 counties. No parking lot is too big or too small, and we will work with you to develop a sweeping schedule that will fit your budget, and be minimally invasive for your employees and customers. We work around the clock, and your parking lot will be immaculately clean by the time that you open for business.
All of our sweeper trucks are operated by the most experienced and customer-focused drivers in the business. We equip our trucks with onboard GPS navigation so that we can always pinpoint where our drivers have swept, and our supervisors routinely follow up their work as a tool to motivate our drivers to excel. We also offer 24/7 emergency services. If you need your parking lot swept between your standard service appointments, our phone is always answered, and we'll be there in a flash.
Most importantly, we stand behind our work on every job. We want to turn each new customer into a repeat customer, and aren't satisfied until you are. If our work ever fails to meet your standards, let us know, and we'll address your concerns immediately!
If you have any questions, or would like to schedule power sweeping services, contact us online, or give us a call at 501-945-3219.