Arkansas' largest fleet of power sweeping trucks is headed your way!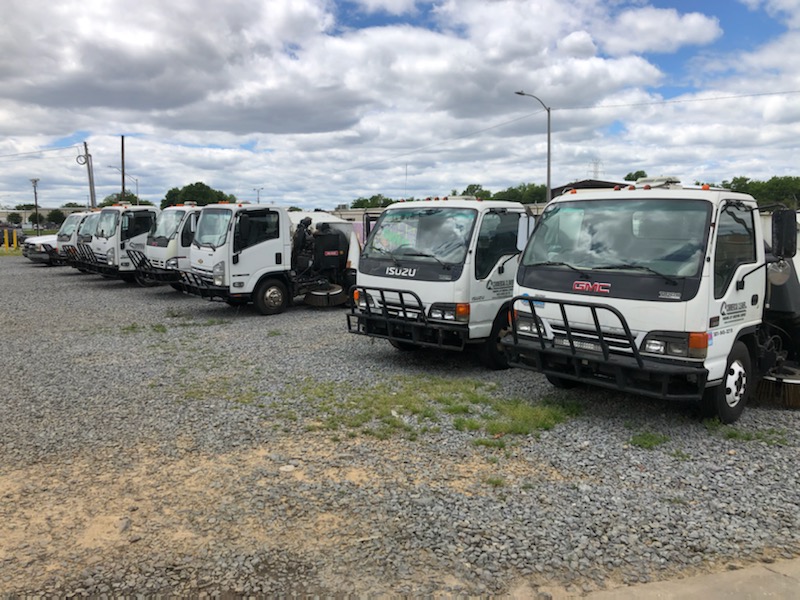 C & C Commercial Cleaner has been operating in Arkansas for four decades, and our drivers are hard at work every night sweeping parking lots and parking decks throughout central Arkansas. We have the largest fleet of commercial sweeper trucks in The Natural State, and they're always a phone call away when you're ready to boost your business' curb appeal.
It doesn't do much good to have a large fleet of trucks if you don't have great drivers, which is why we hire the best! We leave no stone unturned to find seasoned drivers that share our commitment to legendary service, and we set our drivers up for success by providing them well-maintained trucks at the start of each new shift. Our trucks are also equipped with onboard GPS navigation so that we can support our drivers in the field. It helps us maintain a record of where they are at all times, and it ensures that they'll do a thorough job on each service visit. In addition to power sweeping service, we also provide rubbish removal services as needed to ensure that you and your customers will enjoy an immaculately clean parking lot each morning.
A clean parking lot is an effective crime deterrent and it's also good for morale. Your customers will feel safer when they pull into a clean parking lot, and they'll be more likely to stay in your store longer an spend more. And the good news is that our services are more affordable than you think! We'll determine a schedule for cleaning that fits your budget and our drivers will be there on schedule for each service visit.
Businesses like ours depend on repeat customers to keep the doors open, and we're proud to offer regular power sweeping services to over 300 businesses in 10 central Arkansas counties. We stand behind our work with a 100% satisfaction guarantee, and we're ready to do whatever it takes to make you our next lifetime customer!
If you have any questions or would like to schedule power sweeping services, contact us online or at 501-945-3219.